The Missouri Clean Energy District is a political subdivision of the State of Missouri created for the purpose of issuing tax-exempt and taxable conduit bonds for public and private entities statewide. MCED partners with local governments to assist in the financing of public benefit projects that create temporary and permanent jobs, community infrastructure and improve the overall quality of life in local communities.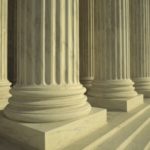 Public facilities may benefit from energy project financing through the District. In addition to the District's offerings designed to finance energy improvements on private property, local governments will find it advantageous to borrow from MCED as well.
MCED provides non-referendum financing to meet the specialized, tax-exempt financing needs political subdivisions face when making capital infrastructure improvements or energy project investments. The financing is delivered most often through a lease-purchase agreement and the amount borrowed is unlimited as it is with other programs.
Contact us today to learn how we can help with your financing needs. For public facilities financing details please contact the District Administrator.
---
Overview
Public Facilities & Infrastructure Improvements:  Local Governments benefit from energy project financing for Public Facilities through the District.
How members benefit with MCED:
Designed to obtain more cost-effective financing than generally available, by leveraging MCED's financial expertise in energy project financing and its relationship with the capital markets.
Borrowers save time and money as they are not required to hire and pay underwriters, financial advisers, bond counsel, or trustees
Benefits of MCED Financing:
Competitive, tax-exempt rates
Fixed or floating rate financing
Flexible payment terms – customized payments
Precise, quantifiable cost of borrowing
Fully-amortized debt schedules
Funds available within weeks
User-friendly application & approval process
Public debt referendum not required
Maintain cash reserves
Retain the benefits of ownership
Spread property costs over the useful life of equipment
What Can Be Financed?
Any municipal, tax-exempt, capital project or equipment can be financed, such as:
Energy Improvements
Electric System Improvements
Gas Facilities
Wastewater Improvements
Water Towers
Public Buildings
Civic & Senior Centers
Law Enforcement/Emergency Facilities
Equipment
Renovation Projects
Public Infrastructure
Underground Facilities